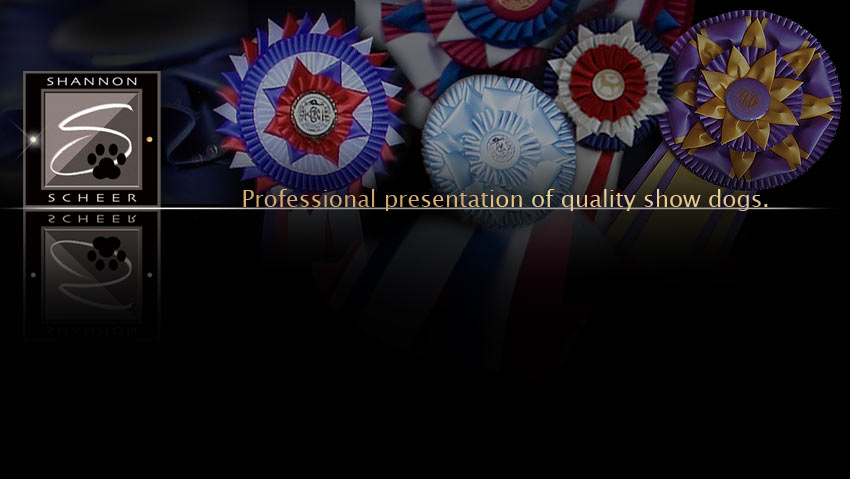 GCH Kompan Van Het Goralenhof "Harley"

Breeders: Mijnheeren Juffrouw, Jasica Mieczyslaw, Jasica Katarina

Owner: Patti Evans, Mysticpons Polish Lowland Sheepdogs, Calgary, AB

With over twenty group placements to his credit, Harley has definitely put this rare breed on the map the last few years. Harley is a Puppy in Show winner as well as a group winner and a consistent contender in the Herding group. He was #2 Pon in his puppy year and #1 Pon for 2013 and 2014. His kennel mate, Ch Domlina's Just Rockin Mysticpons (Pebbles) is the number #4 Pon for 2013 . Pebbles is bred by Lynne Zubrzycki and so far has won multiple baby puppy in shows and 8 puppy in groups with multiple group placements. Watch for them both in 2015.

The Collies of Clairn
Bred and Owned by the Late Anita and Bob Cairns- Calgary , AB

BIS BISS Can Am Ch Clairns A Whisper Of Colors "Whisper"

In her puppy year, (1991) Whisper was #3 Rough and a multiple group winner. By 1993 she was Canada's Number One Collie All Varieties and Number Two Herding Dog. 1994 saw her repeating this and finishing as the Number Three Herding Dog for the year. Whisper still holds the record for the breed for most group wins and Best In Shows (Ten). No other Collie has ranked as high as she did in the top dog standings to date.
Whisper left us in 2004 at 14 ½ yrs.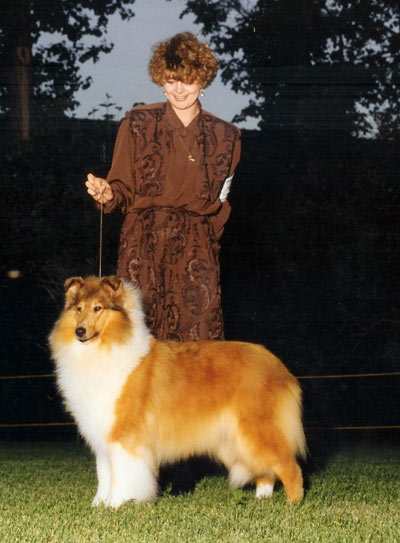 BIS BISS Can Am Ch Clairns On The Road Again - "Willie"

Born 2 weeks before Whisper, Willie was campaigned during the years 1995 - 1997. He was Canada's #1 Collie All Varieties during this time. Willie was ranked in the Top Ten Herding dogs for each of his campaign years and left us at the age of 12.
BIS BISS Can Am Ch Clairns Rhinestone Cowboy "Cowboy"

Cowboy was shown from 1998 until 2000. In keeping with Clairns Tradition, Cowboy was also #1 Collie All Varieties and in the Top Ten Herding each of these years. His littermate ,(a Smooth) Can Am Ch Clairns Sunset Strip (LA) was a BISS winner also. We lost both dogs in 2009 to old age.
BIS Am Can CH Highcroft's Ultimate Quest "Quest"

Bred by Patricia White, Mary Shingle, and Marcy and Mike Fine - USA

Owned by Merv and Inez Cathers of Manitoba and Co Owned with Don and Leslie Jeszewski , USA

He was ranked in the top ten Collies in the USA during his Quest to finish his Am Ch. In Canada Quest was campaigned to Number One Collie all Varieties and #8 Herding Dog in 2010 and #9 Herding Dog in 2011.
BIS BISS Ch Nebadon's The Magic Of Samson "Sam"

Owner Wil Rutar of Edmonton, AB

Breeder: Cheryl Gilliam Nebadon Bouviers

Sam was campaigned in 2005 and quickly became a Best in Show and Best in Specialty winner. He finished off the year becoming one of Canada's Top Ten Herding Dogs. Sam is now retired and enjoying life with Wil and Darcy

BIS BISS Can Am Ch Beaumornings We Will Rock Ewe "Iggy"

Breeder Owner: Al and Ginny Price - Airdrie AB

Shown as a puppy in 2005, Iggy finished the year off as the #4 Old English Sheepdog. Iggy won an incredible FIFTEEN Best Puppy In Shows, which put him as a top group contender at year end. Iggy was the only Puppy to ever win the EKC prestigious Wild Rose Classic. Finishing his American title in two weekends, Iggy qualifies for the USA Top Twenty with multiple group first wins in the USA. Winner of Best Bred by with Ginny at the Eukanuba Classic in 2007. In 2008, Iggy was Award Of Merit at Westminster. In his campaign year (2009) Iggy finished off as Canada's Top Herding Dog and Number Five All Breeds! He has set the bar for the breed in Canada with a record of TWENTY TWO Best in Show Wins in ONE year.




BIS Can Am Ch Beaumornings Legend Rocks On "Jezebel"

Breeders : Al and Ginny Price

Owner: Jane Geng - Abbishire Bouviers, Edmonton

#1 Herding Bitch in Canada, #4 Herding Dog. Winner of 5 Best in Shows and 4 Reserve Best in Shows.
Award of Merit at Eukanuba National in California. Jeze is enjoying retirement at 11 years of age.
Jezebel is littermate to Iggy!
BIS BISS GCH Rocheuses Play Something Country at DND "Cruz"

Breeder: Michaelanne and Colton Johnson and Mary Silva USA

Owner: Nora and Bill Niddrie , DND Bouviers, Calgary AB

At just two years of age , Cruz was shown on a limited basis in 2013 and was the Number Five Herding Dog. He had an incredible start up year in 2014, although only shown for half of the show season, Cruz won six Best In Shows and multiple Specialties. He finished off 2014 as Canada's Number Three Herding Dog. We are looking forward to the 2015 show season for this young majestic boy.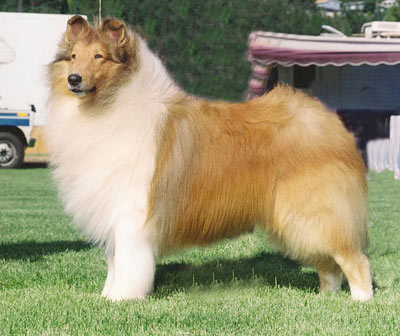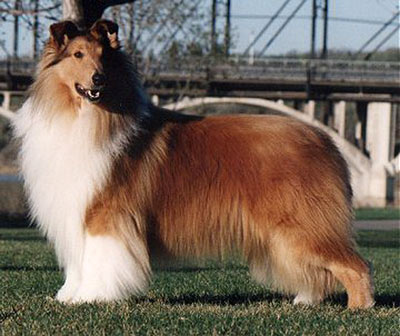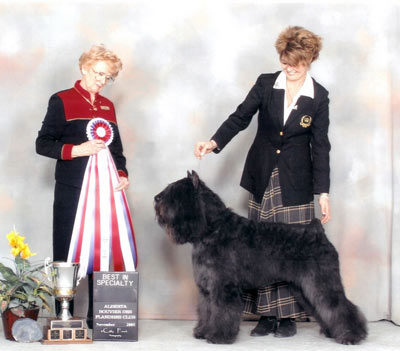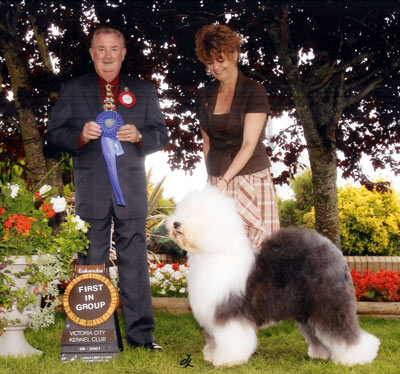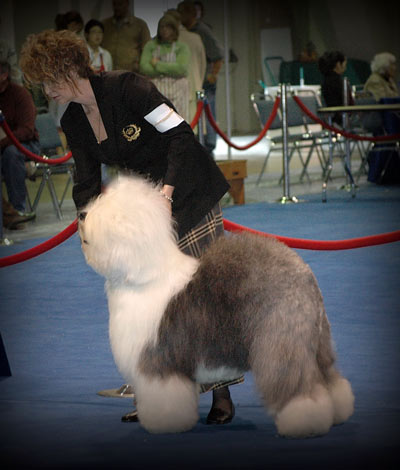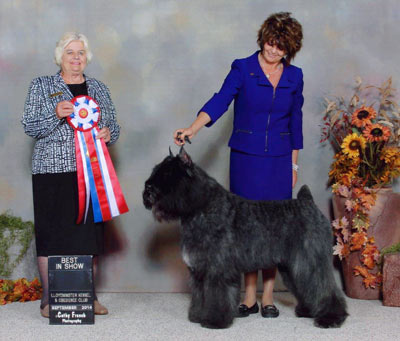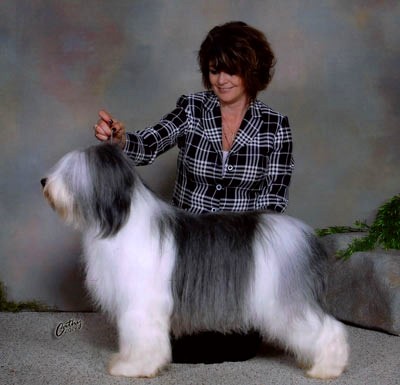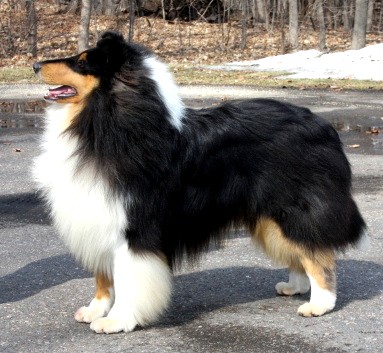 Copyright © 2015 Shannon Scheer Professional All Breed Handling :: All Rights Reserved :: Web Design by Niome

About Us and Our Facility
Fee Schedule
Contact Us



Current Line-up

Chilcotin Dachshunds