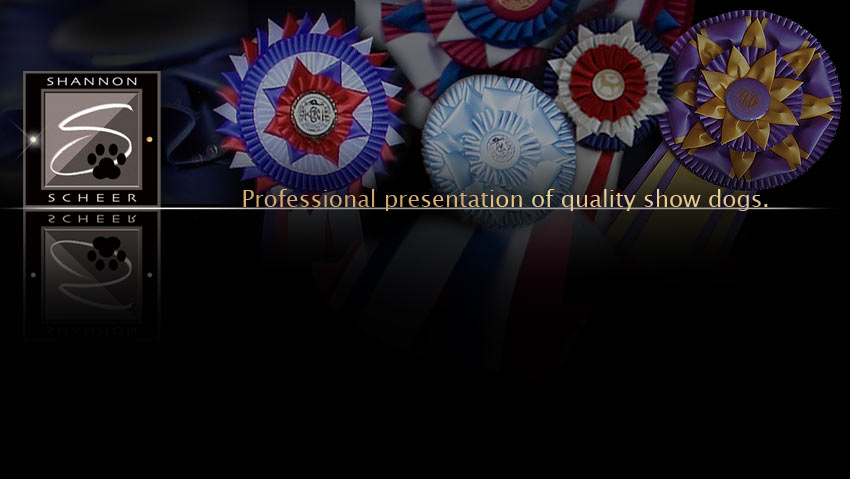 CAN AM CH VANDERBILT's LET THE GAMES BEGIN, CGN "BINGO"

Breeder/ co owner : Judi and Blair Elford (Ontario)

Co owners John and Tracey Parry.(Winterdance Samoyeds, Edmonton, AB) Tracey campaigned Bingo lightly in 2013 which saw him become a Multi Best in Show winner as well as Canada's Number Eight Working Dog. Team Scheer was on board for the summer months. Bingo is the winner of the Canadian National in 2013 and 2014. He is Canada's Number SEVEN Dog of All Breeds and Number Two Working Dog for 2014
CAN AM CH GEISTVOLL MADE TO ORDER 'FLETCHER'
Breeders: Jim and Rene Pope (USA)

Owners: Frank Groves and Diana Garner Weesbad Standard Schnauzers, Calgary AB

In 1993, Fletcher came out with already an impressive resume'. He and his owner Frank, had just come off a BOW at the American National. Another USA highlight was when Fletch and I won the group at the prestigious Santa Barbara Kennel Club. The next day he won an AOM at the SSC National Specialty. Fletcher was Western Canada's Top Dog All breeds that year, and was honored to become CANADA'S NUMBER ONE WORKING DOG AND NUMBER THREE ALL BREEDS. He is the winner of FORTY SEVEN all breed Best in Show wins, with TWENTY FIVE of them being in one campaign year.

In 2004 one of the greatest dogs in Canadian history left for the Rainbow Bridge. Fletch was 14 ½ yrs old and his record will be a hard one to top.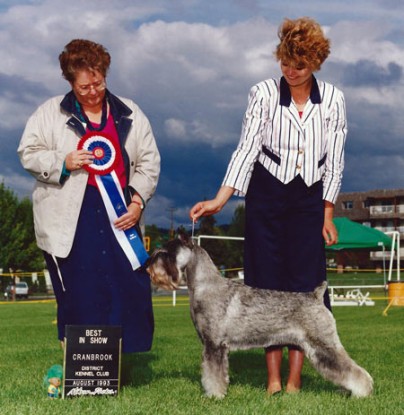 CH EL DIABLO'S JADE 'JADA'

Breeders: Lesley and David Purewall of BC

Owners: Deb Romans and Inga Rech Gentry Dobermans, Edmonton, AB

A multi puppy grp winner, Jada won her first Best in Show at 16 months of age. She was campaigned in 2004 and became Canada's Top Doberman and the Number Six Working Dog that year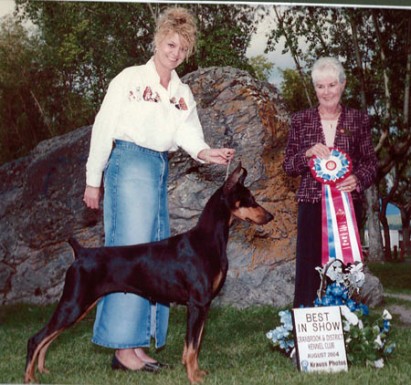 CAN AM CH SNOWGHOST'S HOT ROD LINCOLN 'LINCOLN'

Breeder Owners: Michael and Leanne Palutke of Snowghost Samoyeds.

Lincoln and Mike were on the campaign trail for 2004. I pinch hitted for the shows that Mike could not get to. Lincoln and I achieved his USA title undefeated in four shows. This multi BIS dog finished off as Number Eight Working Dog. Although the Snowghost legacy ended with Mike's tragic death in 2005, Lincoln is still a big influence in the Samoyed pedigrees of today.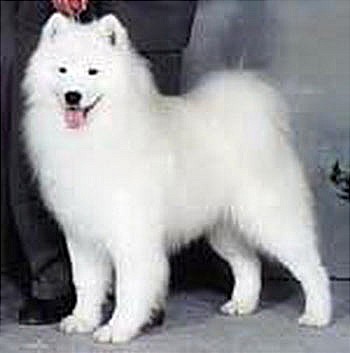 CAN AM CH SNOWDRAGON'S SILA 'SILA'

Breeder Owners: Ken Du and Jean-Louis Bleau. Cochrane, AB

Sila is a Lincoln daughter. Her amazing puppy career consisted of Twenty Best Puppy in Group wins as well as Nine Best Puppy in Shows. Shown primarily by my sister, Alana - Sila was the winner of Best of Opposite, Best Puppy and Best Sweepstakes winner at the Canadian National. She also won the 9 - 12 large Sweeps class at the USA National. Sila obtained her USA Championship with us, winning ALL majors and defeating some of the Top ranked USA females along the way.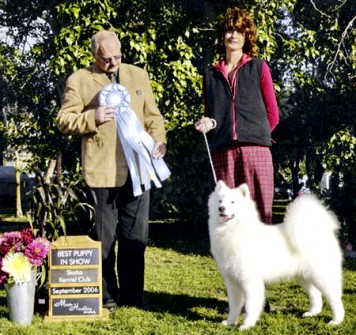 CAN AM CH SNOWDRAGON'S THUNDER 'THUNDER"

Bred by Ken Du and Jean-Louis Bleau.

Thunder is a multi puppy in show winner as well. He is the proud winner of the Canadian Samoyed National .

Thunder achieved his American Championship with ALL majors and undefeated from the Open Dog class in five days.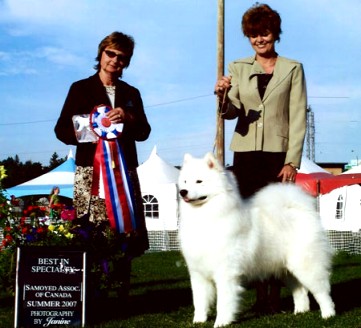 CAN AM CH GENTRY'S AFRICAN QUEEN "KENYA"

Breeder: Deb Romans.

Kenya deserves mention for starting and FINISHING her American Championship in five straight days with three five point majors and two reserves.

One month after this photo she became the proud Mom to a litter of twelve!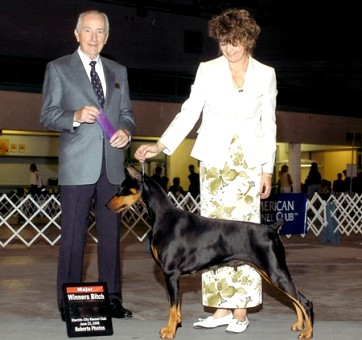 CH JURASSIC'S MISS SAIGON "KYOTO"

Kyoto was breeder/owner/handled by Kim Boucher . Edmonton, AB

She started her career with a Best in Show while still a puppy. This led the way for Kyoto to win TWENTY ONE all breed Best in Shows. During Kyoto's campaign year, I had the pleasure of taking her on the road when Kim could not get away. She finished off the year as Canada's Top Doberman, Number Three Working Dog and NUMBER FIVE ALL BREED DOG.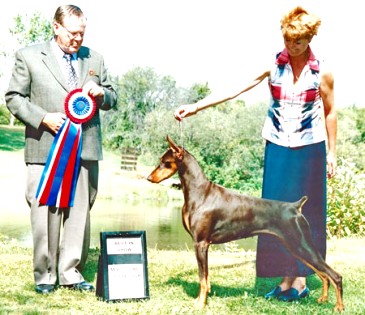 CAN AM CH ROYAL FUTURE'S JP JAST AS I AM, RN 'LINA'

Lina was bred in Japan by Yokio Mori.

She is co-owned with John and Linda Krukar (Dabney Dobes USA) and Deb Romans of Gentry Dobes.

2009 was Lina's warm up year and she proved to us that she was ready. Multiple Best in Show wins came her way that year and she finished off as being Canada's NUMBER FIVE Working Dog. Her 2010 heavy campaign saw her win Ten more Best in Shows that year. This paved the way for her to become Canada's TOP WORKING DOG NUMBER ELEVEN ALL BREEDS.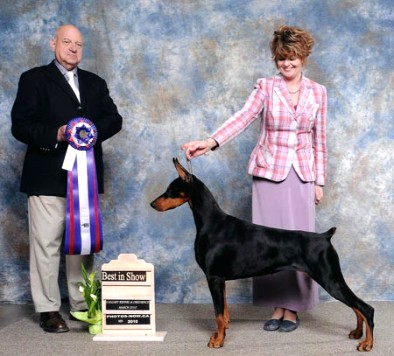 Copyright © 2015 Shannon Scheer Professional All Breed Handling :: All Rights Reserved :: Web Design by Niome

About Us and Our Facility
Fee Schedule
Contact Us



Current Line-up

Chilcotin Dachshunds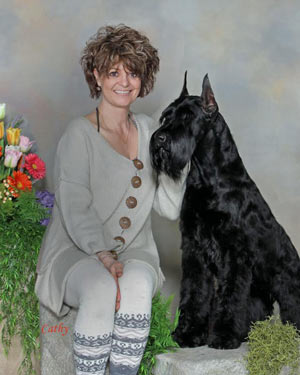 ABBEY
Am Can GCh Lowdown's Remy's Girl v Aerdenhout
Breeder Owner Janine Starink

CANADA'S TOP DOG ALL BREEDS – 2015
Winner of 41 Best in Shows in one year!