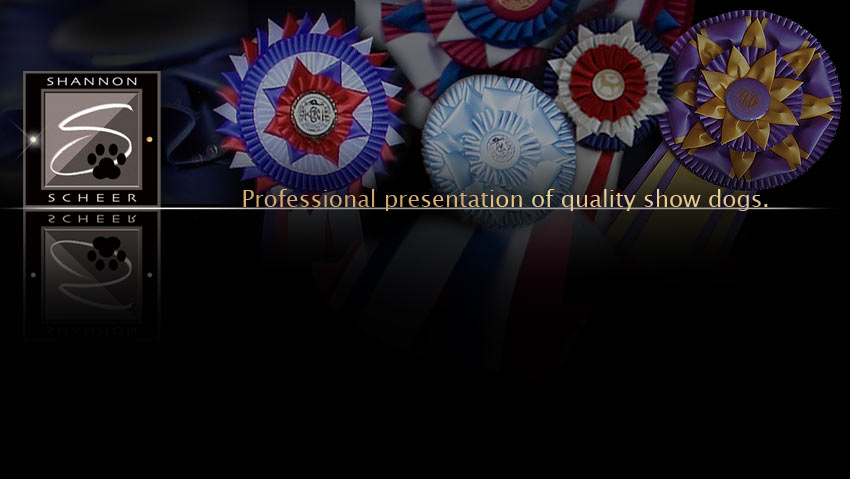 CAN AM CH EFBE'S MERCI POUR LE POIVRE 'MERCI'
CANADA'S TOP DOG ALL BREEDS FOR 2007!!!!

Breeder: France Bergeron Efbe Sealyhams, Quebec

Owners: Tom and June Fraser, Marjory Good

In 2006, Brynmill Kennels brought home their new acquisition. This young dog achieved his American title in quick order and was Best of Opposite at Westminster. In just a few short months, Merci had become a top terrier contender in his trial year. 2007 proved to be an amazing year in which Merci soared to the top dog standings at the first of the year and held his own for the entire campaign. I have never met a dog who had such a large fan club no matter where we competed. His fun loving attitude was a joy to live with . I am a very lucky girl to have been able to share two wonderful years with this dog and his owners and breeder. Winning an incredible THIRTY FIVE BEST IN SHOWS , Merci finished off as CANADA'S TOP DOG ALL BREEDS FOR 2007..
CAN AM CH SIERRA'S MAXX BANDIT 'MAXX'
Breeder: Saundra Dean , California.
Owners: Frank Lovey and Merla Thomson.

Throughout his career, Maxx was Canada's Top Amstaff from 1989-1992. Maxx completed his 1990 campaign year as Canada's Number Nine Terrier. He won Ten lifetime Best in Show Awards.

He holds a very special place in my heart being my very first top ranked dog and the dog that I won my first Best in Show on.


CAN AM CH INDUS JUST MAD ABOUT HARRY 'HARRY POTTER'

Breeder Owner: Joanne and Jon Helm of Indus Airdales.

Harry was shown in 2002. He became Canada's Top Airdale and was ranked in the top Terriers for that year. As well as becoming a Best in Show winner, He won the prestigious Alberta All Terrier Specialty show, and the Airdale Canadian National the same day.

CAN AM CH BRYNMILL'S BILLY THE KID 'BILLY'

Breeder Owners: Tom and June Fraser (Brynmill Terriers, DeWinton, AB)

Billy set forth on a two year campaign in 2004. We achieved Top West Highland White Terrier as well as NUMBER THREE TERRIER. The following year saw us as NUMBER TWO TERRIER in the Country. Billy can boast of a Hat Trick of Best in Shows in one weekend as well as being acknowledged across the globe. - 2004 Billy won the Breed with an entry of over 200 Westies at the Hatboro shows and followed with First Award of Merit at Montgomery.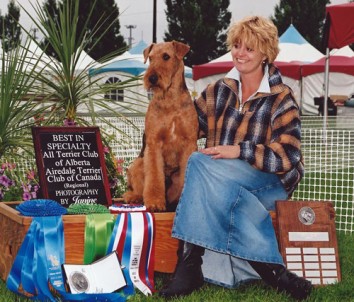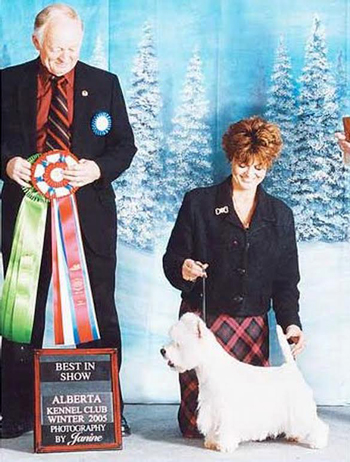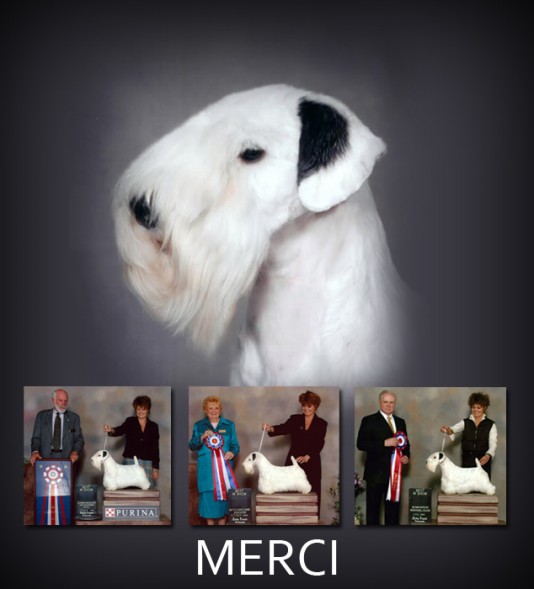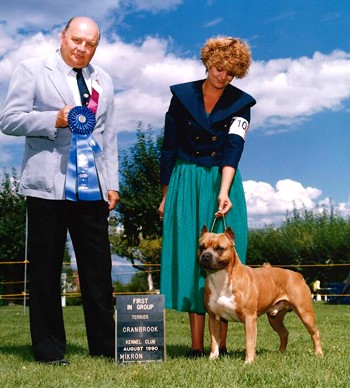 Copyright © 2015 Shannon Scheer Professional All Breed Handling :: All Rights Reserved :: Web Design by Niome

About Us and Our Facility
Fee Schedule
Contact Us



Current Line-up

Chilcotin Dachshunds