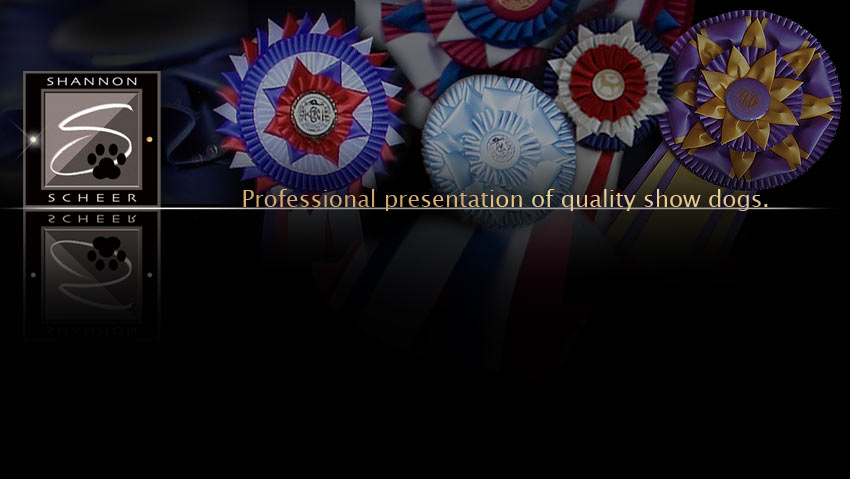 CAN AM CH MATSUTAKE'S ONE MOMENT IN TIME "GABE"

Gabe is bred by Deb and Hal Wold of Matsutake Wires in BC and thus far has enjoyed a wonderful show career.

A multiple puppy in show winner, Gabe has continued on his winning ways at a young age. He finished his USA title in quick fashion with multiple BOV wins and group placements . In 2011 he was the Top Wire and NUMBER THREE HOUND. He was also Number One in his breed for 2012. With five BEST IN SHOWS and a Best In Specialty to date, Gabe proves that you only get better with 'Time' . Gabe is five years old now and can be seen often at the shows with my sister Alana, Myself or his owner Deb at leads end.
CAN AM CH XPLOSIVE TREIS PINHEIROS SW "SCHROEDER"
Standard Wire Dachshund

Schroeder is bred and co-owned by Carlos and Patricia Pedrosa of Curitiba, Brazil.

He is owned with us here at Chilcotin Dachshunds and is our "token" Standard Wire. Imported at 7 months, he came with a long list of credentials including multiple group wins in Brazil. By the time he was 9 months old he was a multi group winner in Canada as well. He won an incredible TWENTY FIVE Best Puppy In Groups and FIVE Best Puppy in Shows. His first BEST IN SHOW was awarded at 15 mths of age. He achieved his American Title with specialty majors and multi Best of Variety and group placements. In 2003 Schroeder was campaigned to Number Three Hound with TEN all breed Best in Show wins. We bid Schroeder farewell in July 2014 at the age of fourteen and a half. We salute his children and grandchildren who are continuing on his legacy
CAN AM CH WITHENSEA PIPPIN REED "PIPPIN"

Bred by Lindy Wiebe of Withensea Wires and owned by Janet Rein.

She was the #1 Wire for 2004 and 2005 which also included NUMBER NINE hound, handled by Connie Krohn and Trina Neil. She is a Schroeder daughter and holds the record as Canada's all time top winning Standard Wire bitch with multiple Specialty wins and four all breed Best in Shows.
CH Withensea Johnny Thunder CDX TD RAE CGN AGNS AgNJS CRS CRAT CRVCL APDT.RL1 "JOHNNY"

Bred and owned by Lindy Wiebe.

Johnny is the brains in our Wire world. We believe him to be the most titled Wire in our Canadian history and his titles prove it. He is a full litter brother to Pippin Reed. At eleven years of age, Johnny can still be found running and competing on scent and hurdle teams just for old time sake.
CAN AM CH WIRETAPS ENTRAPMENT 'HUNTER'

A Schroeder Grand son, Hunter was bred by Janet Rein of Wiretap Kennels.

Pippin's son can boast of Eight puppy in show wins and Multiple Best in Shows . He was undefeated for his American Championship from the Junior Puppy Class.
Hunter is a multiple Best in Show Winner
CAN AM CH DEEBARDAC'S HOT WIRE "SKEETER"

Skeeter was bred by Bob and Betty Davis of Deebardac Wires.

This Schroeder son was proudly picked at the age of 8 weeks by his owner, Anita Cairns. Skeeter finished his Championshp in four days undefeated over specials. His American title saw him finishing from the 12-18 class with specialty wins and group placements. Skeeter is nine years old now and living with my best friends Kerry and Howard who adopted him upon Anita's passing.
CAN AM CH MATSUTAKE'S FIRE IT UP "LEVIN"

Breeder Owner: Deb and Hal Wold Falkland BC

Levin finished her American Championship undefeated with 3 Five point majors breed wins from the classes
Canada's Top Wire Bitch All Varieties and a Multi Group and Reserve Best in Show Winner.
CAN AM CH MATSUTAKE'S SHE'S OUTTA THIS WORLD "VEGAS"

Owned by the late Anita Cairns , now residing with her breeders

Breeders: Deb and Hal Wold, Falkland BC

Vegas was a multi puppy in show winner, obtained her USA title easily and was one of Canada's Top Wires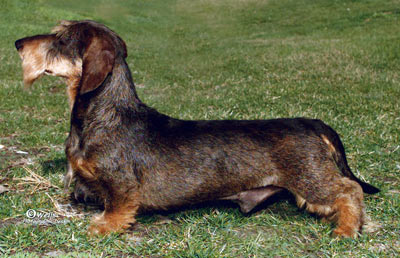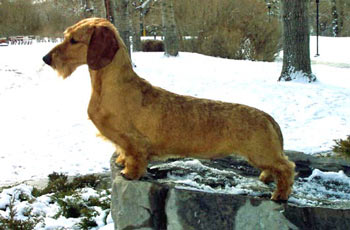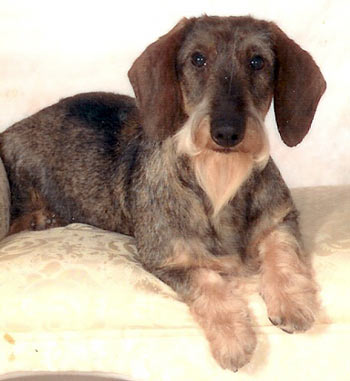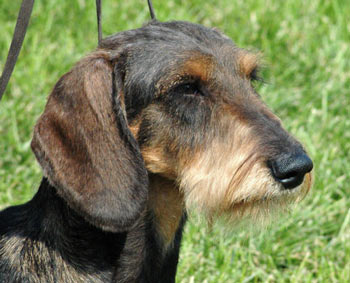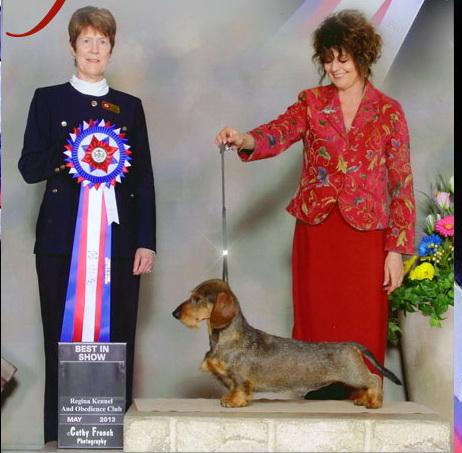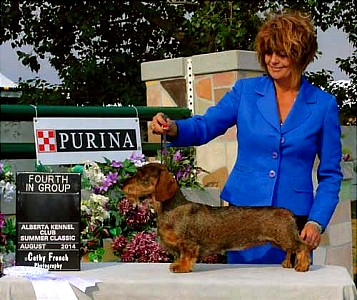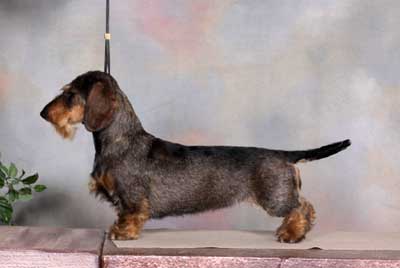 Copyright © 2015 Shannon Scheer Professional All Breed Handling :: All Rights Reserved :: Web Design by Niome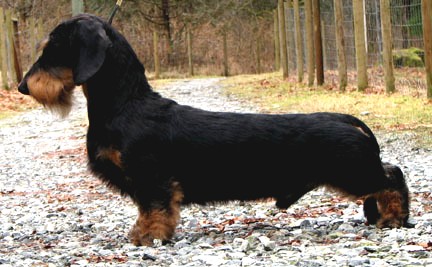 About Us and Our Facility
Fee Schedule
Contact Us



Current Line-up

Chilcotin Dachshunds

BEN
Ch Matsutake's Somewhere in Time St Wire Daxie Breeder Owners Deb and Hal Wold
Ben debuted his specials career with a Best in Specialty win in March and is continuing to make his presence known with multiple group placements so far in 2015.